So. Saturday at Nine Worlds.
After another huge breakfast which included waffles with Nutella, I headed for a 10am panel of "Game of Thrones: Wild Speculation" which was basically a couple of massive GoT fans leading a discussion on what people thought would happen in Series 7 (spoiler: we think people will die). I attended this with Blaise, apparently unharmed after friday night in The Party Hostel, and also met up with Anna Smith-Spark, author of the forthcoming 'The Court Of Broken Knives' whom I met at a similar discussion group at Nine Worlds last year (we then went down the road to grab a snack and a drink at a Costa with someone cosplaying as Danerys, which made for an interesting group). Following that I made it to 'How To Idea' at 11.45am, where a group of authors discussed where they get their ideas from (yes, really) and also, and probably more importantly, how they utilise, pursue and develop them.
At the last moment I'd noticed that my former editor from Del Rey UK Michael Rowley had joined the 'Exploring Chinese Science Fiction' panel at 1.3opm. I managed to catch him for a quick catch-up chat in the lobby, but unfortunately I'd been watching some of Watford vs Leicester in my hotel room in the break and practising a couple of songs on my acoustic guitar (more on this later) and so I turned up too late to get into his session, or indeed into any of the other sessions running at the same time. This maybe wasn't such a bad thing: I chilled out and went to get a sandwich for later, then headed to the biggest room of all, the Cremant Suite, for the Bifröst cabaret soundcheck (more on this later). After that was done, it was time to go and get ready for the one panel I was on this year:
"EWOKS! Shameless Commercial Creations, Or The Creatures That Crushed An Empire?"
Someone had been meant to moderate the event but they'd had to pull out of the event for personal reasons leaving three participants: me, Sara, and Ash, who was also a Nine Worlds staff member. I'd come up with five questions earlier in the week that we decided to use, and we talked around the topic as best we could. It was a small panel in a small room with a small audience, but I think we all had fun: highlights for me included realising exactly how passionate I was that ewoks are essential to The Return Of The Jedi's plot (contact me if you want me to explain, but you may regret it), Sara's point that the ewoks are the only actual complete culture we see in any of the original trilogy, the impromptu "Bob The Builder on the Death Star" singalong, and the final conspiracy theory that Supreme Leader Snoke is actually an ewok (I'd go into more detail, but the theory got refined further on Sunday so I'll cover it then).
Anyway, after that I had to run to my hotel room and get ready for the cabaret.
The Bifrost cabaret is a yearly event, a variety show featuring all sorts. This year they had performance poets, a pole dancer dressed as Deadpool (Deadpole), various musicians, a musical comedian (Jay Simpson, very funny indeed, although his song where he names all 270 or so tube stations in two-and-a-half minutes left the sign language interpreter just throwing her hands up and giving up), at least one regular comedian, a couple of magicians and a steampunk burlesque performer (warning: link is to video of performance).
Oh, and me.
You see, I'd volunteered to go down with my acoustic guitar and play two songs. The second song was one I'd written specially for the occasion about entitled fans, called "Everything's Ruined Forever".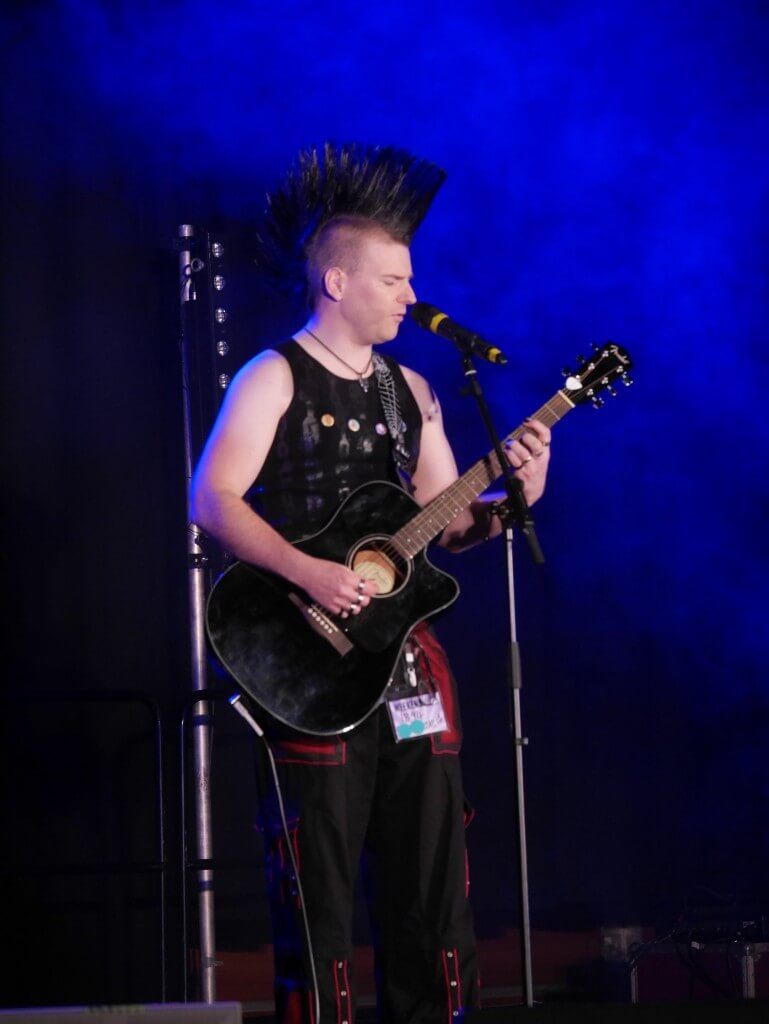 The first one was "Fuck You, Joffrey Baratheon" (which I played in the wrong key), which made Hap the BSL signer do this a lot: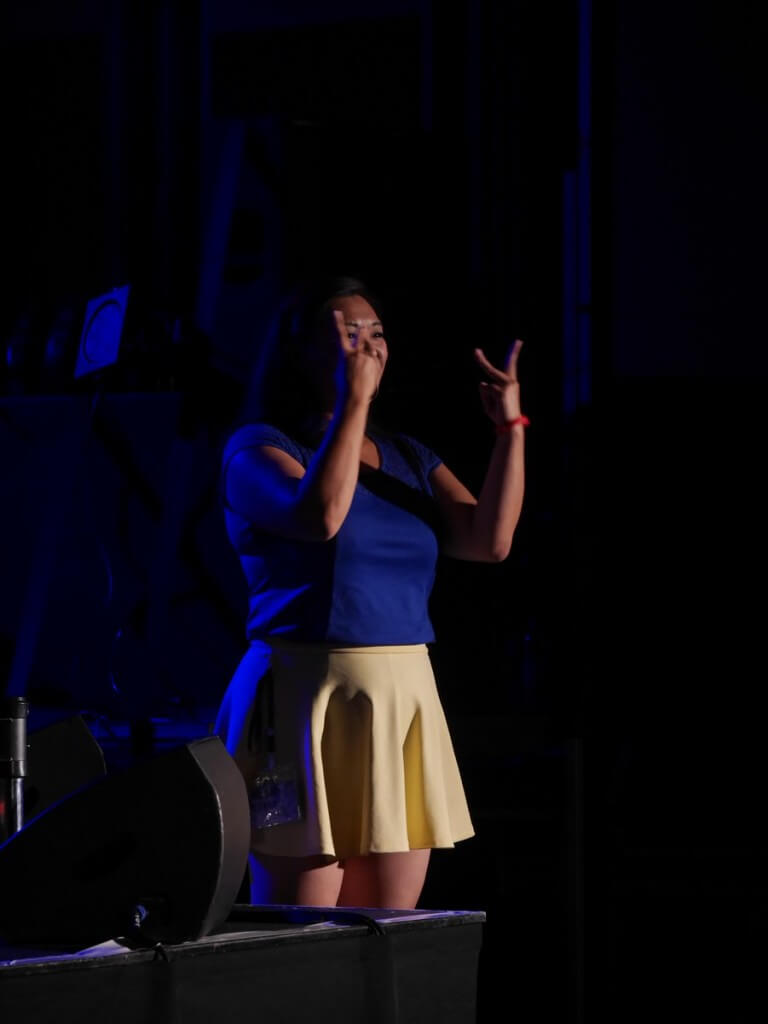 Sorry, Hap.
I'm pleased to say that both of my songs got a lot of laughter, and according to Blaise (who was in the audience) people sang along with the chorus of "Everything's Ruined Forever", which is fantastic. After I'd been on I ran to my hotel room to dump my guitar and then went to my car to get my CD decks and my CDs, finally making it back in time to catch the last act and the cabaret's triumphant conclusion (Jade the compere had been dressed as a sort of punk Puck from A Midsummer Night's Dream all evening, and closed it with Puck's final speech).
CD decks, you say? Yes, because after the Bifrost Cabaret comes the Bifrost Disco, and I'd volunteered to do this, too. There was a minor hitch in that one of the other two DJs also had to pull out at the last minute, but Elaine (who did it last year) was still around, so between us we got set up and launched into the final part of the night.
I can honestly say that the Bifrost Disco is the best crowd I have ever played for. They danced to everything, from… well, perhaps it's best if I write out the set, for those who are interested (with (r) denoting a request):
ELAINE
MANISHA – Somewhere Over The Rainbow
QUEEN – Hammer To Fall
WEIRD AL YANKOVIC – Hardware Store
TEGAN & SARA – Everything Is Awesome
THE RUNAWAYS – Cherry Bomb
TALAHASHI YOUKO – Cruel Angels
RAMIN DJAWADI FEAT. TOM MORELLO – Pacific Rim Main Theme
THE AUTOMATIC – Monster
THE CRYPTKICKERS – Monster Mash
MICHAEL JACKSON – Thriller
JOSS WHEDON/JAMES MARSTERS – Rest In Peace
CHVRCHES – Bury It
RAY PARKER JR. – Ghostbusters Theme
DOLLY PARTON – 9 to 5
MIKE
STAN BUSH – The Touch
THE ATARIS – Boys of Summer
REPUBLICA – Drop Dead Gorgeous
MY CHEMICAL ROMANCE – I'm Not Okay (I Promise)
FEEDER – Just A Day
FOO FIGHTERS – Everlong
DJ BLAZE – Metallica vs Lady Gaga: Enter Telephone
EVANESCENCE – Bring Me To Life
SAVE FERRIS – Come On Eileen
REEL BIG FISH – Walking On Sunshine
ELAINE
VERKA SEDUCHKE – Dancing Lasha Tumbai
POLI GENOVA – If Love Was A Crime (r)
ALESTORM – Wolves Of The Sea
IAN HU & MARK LAMBERT – Red Dwarf Theme
NICKI MINAJ – Starships
Star Trek Theme
MELO – Star Wars Disco Theme
QUEEN – Flash
JIMI HENDRIX – All Along The Watchtower
Captain Scarlet End Titles
BABYLON ZOO – Spaceman
Steven Universe Theme
BLONDIE – Atomic
MIKE
THE TIMELORDS / KLF – Doctorin' The Tardis (r)
ERWIN VAN BEEKVELD – Taking The Hobbits To Isengard
ANDREW SPENCER & VAMPROCKERS – Zombie 2K10
CHEMICAL BROTHERS – Galvanise
KORN FEAT. SKRILLEX & KILL THE NOISE – Narcissistic Cannibal
MIKE BROOKS – Drowning Pool vs Psy: Let The Gangnam Hit The Floor
MINDLESS SELF INDULGENCE – Shut Me Up
NINE INCH NAILS – Closer (r)
THE OFFSPRING – Self Esteem (r)
GREEN DAY – Basket Case (r)
BOWLING FOR SOUP – Girl All The Bad Guys Want (r)
BON JOVI – Livin' On A Prayer
IRON MAIDEN – The Trooper (r)
ELAINE
DR HORRIBLE – Bad Horse Chorus/Brand New Day
M.I.A. – Paper Planes
JANELLE MONISE – Q.U.E.E.N. (r)
POMDETER – Call Me A Hole
PLACEBO – Nancy Boy
PIG WITH THE FACE OF A BOY – The Complete History Of The Soviet Union
THE CARDIGANS – My Favourite Game
THE PRODIGY – Out Of Space
JEFF WAYNE – Eve Of The War (r)
POKEMON – Trainer Battle (Red Blue Yellow)
JAISON PAIGE – Pokemon Theme
ROCKY HORROR – The Timewarp
IDA MENZEL – Let It Go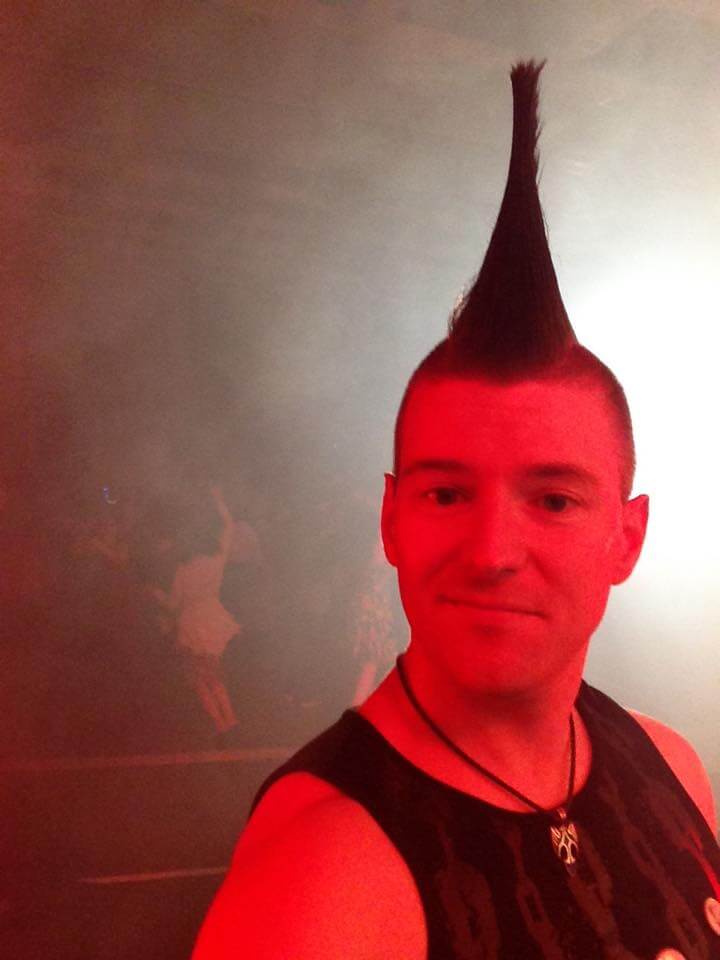 So there you have it, the setlist for Bifrost Disco 2016. After that I went and got a much-needed shower and got to sleep just past 3am, with one more day to go…