When I'm not working, writing, playing in my band, clubbing, DJing, wargaming or providing a comfy resting place for cats, I sometimes go walking. This is usually in the Peak District, and it was to there that my wife and I went on Easter Sunday. I thought I'd share a few of the photos here, as it's really a rather nice walk and I'd encourage anyone who can get there to go take a look.
We started at Milldale, a village on the western edge of Dove Dale. The lower part of Dove Dale by Thorpe Cloud and Ilam is a walker honeypot due to its lovely scenery and easy going, and we wanted to avoid it partly because of this but also because we've done that section several times. The upper part can still get busy, but less so. Milldale itself is a rather lovely starting point: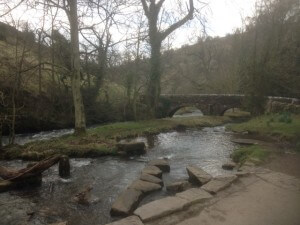 Unfortunately it seems that the sun went in just as I took pictures of some of the nicer bits of scenery, but not all the time. Here's part of the upper Dove Dale: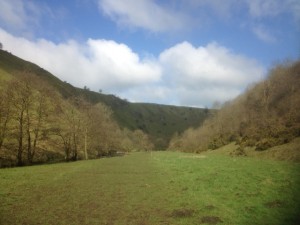 The walk itself is very simple to follow, as it simply traces the course of the River Dove upstream, skirting the border between Derbyshire and Staffordshire as it does so. After a while Dove Dale gives way to Wolfscote Dale, which starts to get less impressive towards the top end but still has some rather impressive rock formations: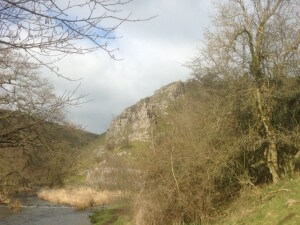 And also wildlife, such as a dipper and a yellow wagtail:
Even when the sides of the valley start to lessen in height, it's still a very pretty place.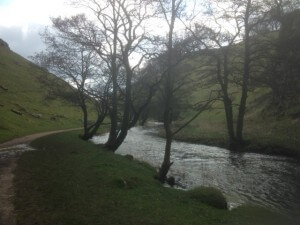 And it has some caves: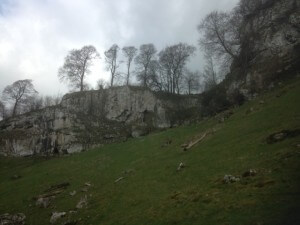 Finally we moved out of Wolfscote Dale entirely and, deciding against crossing a rather swampy-looking field, took a brief detour via lane and road to reach the start of Beresford Dale. This is a short dale, barely even a mile in length, but still rather picturesque and the perfect place to stop for some lunch. We found a couple of likely rocks next to the river, and had the pleasure of watching a pair of yellow wagtails going back and forth from their nest.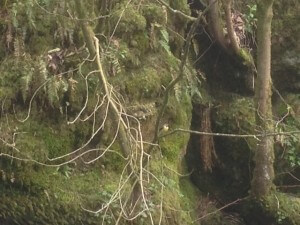 At the end of Beresford Dale we could have gone on to the village of Hartington, which would have made the walk a ten-mile one rather than an eight-mile one, but the last mile was over fields which, while pretty enough, didn't look to offer anything like the same quality of scenery that we'd already experienced.
So we turned around and went back again: nothing particularly strenuous, but for the first 'proper' walk of the year (due to snow and suchlike our previous walks had been on the High Peak Trail and Tissington Trail, which are sort of cheating) it was nice to ease back in to things.
Also, despite the route becoming quite busy with walkers by mid-morning I got away with only three comments about my hair (I'm constantly surprised why people surrounded by some of the nicest scenery in the UK want to spend time looking at exactly what the strands of keratin atop my head are doing, but that's people for you) and was able to round it off with a Magnum ice cream from the shop in Milldale. A Sunday well spent, says I.