On Thursday 7th May, and over into Friday 8th, the UK made what I can only consider to be a very, very bad mistake by voting in a Conservative majority government. I'm aware it's probably not good business sense to get too political, but there's a limit to how much I can bite my tongue. My experiences working for a homelessness charity for the last eleven years have shaped me and my views, and it's reflected in my writing. My writing carries and reflects certain values, certain things I think are good and certain things I think are bad. It doesn't mean my characters are all paragons of virtue, of course, but I believe my writing demonstrates when my characters are behaving in ways I would not want people to behave in real life. I don't think that a Conservative government will jibe with what I think is good: in fact, I know it won't. Many people argue that further cuts are necessary, and my maths and economics isn't good enough to argue back, but I know where the cuts will fall: on the most vulnerable, the sort of people I've been working to help for over a decade. So Friday started pretty badly. It did improve, however, when I got a whole box of Dark Run books in the post from Del Rey UK. Here is a picture of my cat Spike sitting in that box, albeit with a pillow case between him and them to make it more inviting for him: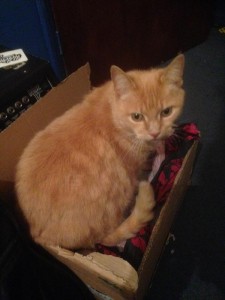 Today, things have got better. I received word from my editor that no less an authority on sci-fi than STEPHEN FREAKING BAXTER aka one of the leading figures in British science-fiction, multiple award-winner, that guy who co-wrote the Long Earth series with Terry Pratchett, has described Dark Run as 'Great fun… Golden Age chic!' And finally, also today, I have received the first full-length review of Dark Run. It comes from SFandFReviews, and can be found here. I have to say, I couldn't have written a much more positive review myself. It is incredibly gratifying to know that there are people out there who have never met me and who have no motive to be anything other than honest who have said such nice things about a story I made up in my head.
By the way,
Ruby Fortune Offers My Bonus 4 Life Promo
Bonuses at one of the best online casino sites can help you to make the most of your gaming funds. Bonuses can boost your bankroll and therefore provide you with more gaming time, having invested the same amount of personal funds. The Ruby Fortune boasts an attractive My Bonus 4 Life promotion that offers rewards each month for Ruby Fortune loyal customers see more at Topcanadacasinos.net
Ruby Fortune's special My Bonus 4 Life programme is a scheme that is suited to individual players according to personal gaming activity at this site. This means that through My Bonus 4 Life, current players may earn a personal bonus each month. The casino bonus amount depends on the wagering activity of the player during the previous month. It almost goes without saying that the more money you wager, the more rewards you may be offered.
The way it works is that at the beginning of every month InterCasino players may receive details of a specially created promo by e-mail. This personal message will detail instructions and terms of the promotion. My Bonus 4 Life promotions are available for existing players at the Ruby Fortune.
If you have not yet joined this site, you can take advantage of an attractive welcome bonus. You can benefit from a 100% match bonus for new players up to the amount of ?250. Established in 1996, the Ruby Fortune has plenty of experience to offer its customers and is powered by Cryptologic. Players may access gaming action at this site either via a download of software or via an instant play mode. The InterCasino offers an exciting selection of games including all the top favourites and various additional pursuits. This site boasts Marvel slots, a range of promotions and amazing jackpot prizes.
Look out for the My Bonus 4 Life promotion at the Ruby Fortune! </div>