A couple of bits of exciting news, in this brief update before I go out clubbing. Yes, you heard me. I'm still young, honest.
First of all, I have been invited to attend Nottingham Writers' Club Sci-Fi Evening. This is on Wednesday 21st October at the Nottingham Mechanics on Sherwood Street, Nottingham. Speakers include Gav Thorpe (mainly of Games Workshop fame). I'm not speaking, but I'll have a table with books for sale – namely Dark Run AND ALSO some special, advance copies of Dark Sky!
Advance copies of Dark Sky, you say? YES. I will have some copies with me of the box I received last week, and I will be selling them. What's more these are LIMITED EDITION books… because it seems there was a slight typo on the copyright pages and they're all apparently copyright 2016 instead of 2015! This will be corrected on subsequent pressings, according to my publisher, so if you want a limited edition (and technically inaccurate) copy of Dark Sky, come to see me at the Sci-Fi Evening!
OR
You could come and see me at the New Writers UK Bookfest on Saturday 24th October.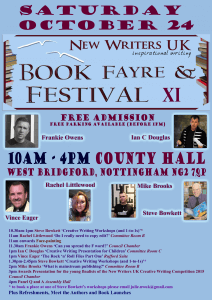 For some reason I can't get the flyer to be both big and clear, but anyway: It's from 10am-4pm at the County Hall, West Bridgford, Nottingham. I'm speaking from 2pm about my experiences in mainstream publishing and what it is, and I should also have some books to sell there.
AND SPEAKING OF MAINSTREAM PUBLISHING…
Behold, my first video interview! Shane from Virtual Napkins did an interview with me about mainstream publishing for a series he's doing. Big credit goes to him for editing out the parts where I stumbled over my words, hesitated for too long or just rambled.
WATCH AND LISTEN TO ME TALKING
Have a nice weekend, everyone.