Well, that was rather fun!
"That", in this context, was this: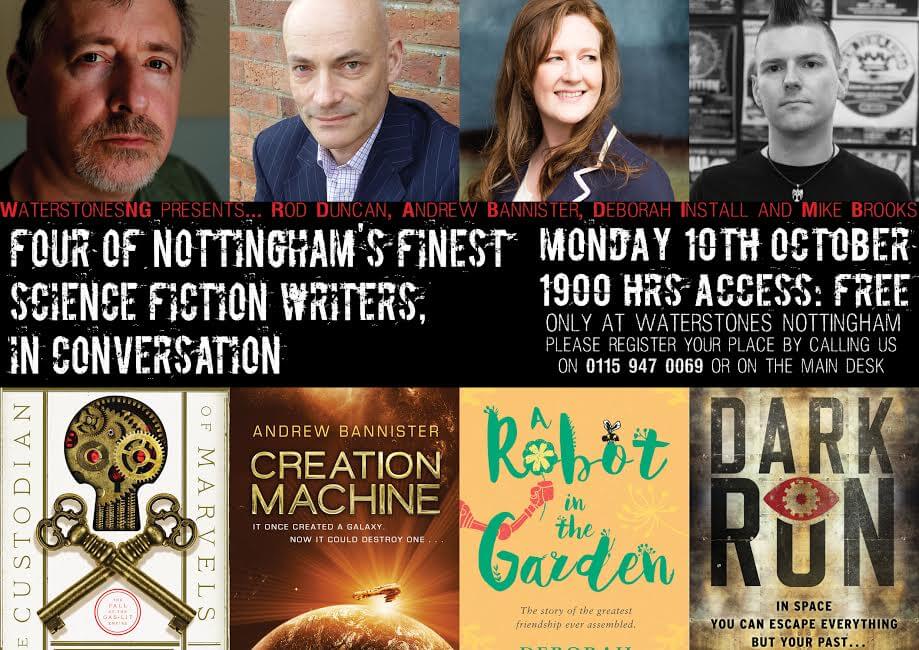 On Monday evening I joined forces with Rod Duncan, Andrew Bannister and Deborah Install at the gracious invitation of Dan at Nottingham Waterstones to be part of a panel about scifi. Nottingham is now a City of Literature, or something, so although none of us seemed quite sure what that means Dan is very eager to promote the authors of Nottingham outside of the genres it's known for (playwrights and crime writers I think, mainly).
I don't think I can really recount everything that we talked about, but we all agreed on various things such as how we write because we feel the need to tell stories, even if it's just to ourselves (obviously for us, we're lucky that it's not just to ourselves – I guess your milage may vary as to whether anyone else thinks that makes *them* lucky…), that we write in a linear fashion, and that research can end up being somewhat all-consuming unless we rein ourselves in.
I'd like to thank Dan for organising it, my three fellow writers for their excellent contributions, and everyone who came along to make it such a fun evening and ask interesting questions.