So, yesterday I was at work when I was mentioned in a tweet from my editor, Michael Rowley at Del Rey UK. The tweet was a photo of the front cover for DARK RUN, which is currently being displayed to all and sundry at the Frankfurt Book Fair while Del Rey do publisher-y things like trying to persuade other people to translate it into loads of different languages, or similar.
Here's that photo: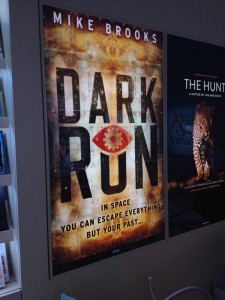 Then I got linked to another photo, this one for scale purposes: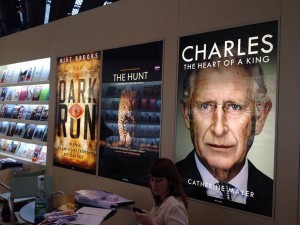 So basically, in Frankfurt there are a bunch of industry types wandering around and looking at a, what, four foot tall lit-up reproduction of what the cover of my novel is going to look like?
This is what those of us in the author business call PRETTY DAMN EXCITING, REALLY.
But wait, the day got better! I put these photos up on Facebook and received many queries from my excellent friends along the lines of "when's it coming out?" Now, as it happened one of my friends managed to answer that question for me by putting up the link to it on Amazon.
And oh look, here it is on Waterstones as well…
Now, the excitement levels for this started in February, when I received news that I was going to be offered a publishing deal, and continued in March when I actually went about signing the contract. Nothing concrete has actually changed at this point in time – I've seen the cover design before now, but I was asked not to share it with the public (no matter how excited it made me). However, seeing that cover up in a public environment in front of industry people who are nothing to do with Del Rey UK, and seeing links to the novel I've written on websites where people can actually now go and pre-order it (and people have! Several of my wonderful friends have done so) is another level of awesomeness.
So I suppose I'd really better go and get on with the sequel, hadn't I…?